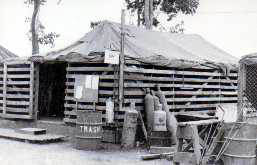 2nd Platoon of the 697th Engineer Company (Pipeline) spent most of it's time at NKP in northern Thailand.

While at NKP the 2nd Platoon erected 10,000 barrel fuel tanks, laid water lines, installed pumping stations, etc.

As stated before they were deployed to Viet Nam from mid 1966 to March 1967 supporting combat units there. We are still looking for info and photos from this time period. Any help would be greatly appreciated.

The names listed are some of the former members of the 1st Platoon. Just click on their name to read their stories.



---

---
Updated: 14 March 2001